The Writer's Brainstorming Kit
Thinking in New Directions
by
Pam McCutcheon & Michael Waite

ISBN 0-9654371-4-0

$24.95
A recurring refrain in the writing business is that editors want fresh material—something different they haven't seen before. That's what The Writer's Brainstorming Kit is all about—giving you the tools to jump the ruts and take flight in new, unexpected directions. Use the 50 cards and concepts in this book to:
| | |
| --- | --- |
| | Break out of your conventional mode of linear thinking |
| | Create conflict in your story |
| | Find new and unexpected plot twists |
| | Discover character motivation |
| | Trigger new associations in your mind |
| | Design a story from scratch |
| | Add depth to your characters |
| | Build your plot |
| | Define character goals |
| | Break through a block |
| | Determine character traits |

Introduction

UNDERSTANDING THE CARDS

USING THE CARDS

CARD INTERPRETATIONS
includes five suggestions each for:

CHARACTER: Role/Pursuit, Traits, Goal, Motivation, Internal Conflict, External Conflict, and Growth/Realization

PLOT: The Ordinary World, The Trigger Event, The Change of Plans, The Black Moment, and The Resolution

What others have to say about The Writer's Brainstorming Kit:
"The Writer's Brainstorming Kit will join your dictionary and your thesaurus as a must-have tool for the writing trade. After the first time, you'll wonder how you ever wrote without it!"
— Laura Hayden (aka Laura Kenner), romance novelist
"The Writer's Brainstorming Kit seemed like a truly dumb idea, until I started using it. Now I wouldn't be without it. I can't recommend it highly enough. Every writer I've shared it with wants to steal mine, but I tell them they have to buy their own. So should you. It is marvelous."
— Carolyn McSparren, award-winning romance author
"Are you alone at two in the morning with no one to bounce off those ideas? Well, have I got the answer for you in a neat little book. And as a bonus, you can play cards at the same time. I purchased The Writer's Brainstorming Kit: Thinking in New Directions by Pam McCutcheon & Michael Waite and read the book in one sitting. Having plotting and GMC problems, I decided to draw cards for my hero, heroine, villain, and two secondary characters. Magic happened!
Are you writing the same characters but putting them in different
situations? The Writer's Brainstorming Kit will challenge your brain and the next thing you know, different characters and plots will be climbing over your stereotyped characters to freedom. The Writer's Brainstorming Kit gives you words and ideas to warm up your brainpower and minutes later, your well is overflowing. Now if Pam and Michael would only figure out how to get the stories from our brains to the page without dripping blood..."
— Sue Longsdorf, Writer

After twenty years of gallivanting all over the world with the Air Force as an engineer, Pam McCutcheon decided to leave and pursue her longtime dream of writing. Luckily, the synthesis of these two disparate careers hasn't made her schizophrenic, but instead has given her an unusual combination of logic and creativity and the ability to speak from both sides of her brain.
Fond of incorporating humor in her books and classes, Pam is a popular writing instructor and an award-winning author of ten novels for Dorchester Publishing, Harlequin American, and Kensington/Zebra. She has also written two novellas and four short stories (some under the name Pamela Luzier).
Also check out her other nonfiction writing book, Writing the Fiction Synopsis. She can be found in beautiful Colorado with her dog or on the Internet at http://www.pammc.com/.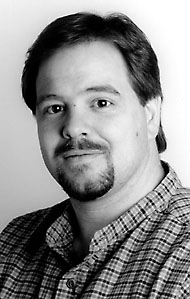 Michael Waite /bigger>/bigger>/fontfamily>has pursued creative interests—illustration, design, marketing, writing—for 18 years, working primarily in graphic art studios and advertising agencies until ending his ten-year relationship with a steady paycheck and becoming a freelance.

An award-winning designer and illustrator, Michael started hanging out with serious fiction writers some ten years ago, and served as director of the popular Pikes Peak Writers Conference in Colorado Springs for three years. He owns a creative arts studio and lives in Idaho with his wife, two daughters and a small herd of Macs.